Def Leppard's Hysteria album was released on August 3, 1987.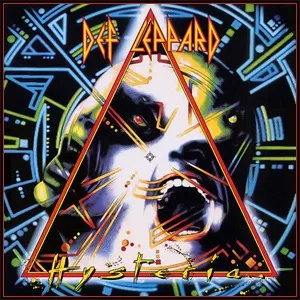 Def Leppard Hysteria
There's much to celebrate about Def Leppard's landmark Hysteria album, including its meticulous production, seemingly endless amount of hit songs, incredible chart longevity, and extraordinary sales performance.
But, wait, there's more!
If you're a frequent reader of this site, you're likely aware of at least some of the in-depth dissections written on Def Leppard's studio albums (On Through The Night, High 'n' Dry, Pyromania, Adrenalize, Slang, Euphoria, X, Songs from the Sparkle Lounge, and the self-titled Def Leppard.)
This time around, let's take a slightly different approach with Hysteria.
We'll still dive deep, but to properly commemorate the release and truly appreciate Hysteria for what it is, it's also important to recognize the album for what it's not…and easily could have been.
Def Leppard: Hysteria Memories
The Hysteria album is a fine example of how when even so many things go wrong, the end result can still be oh so right.
The challenges and detours that delayed the making of Hysteria — including the unimaginable tragedy of drummer Rick Allen losing his arm and nearly his life in a car accident — further amplifies the old saying that "everything happens for a reason."
Def Leppard's Hysteria is not only iconic and by far the band's most commercially successful album, it's also one of the top-selling albums of all time. Not that surprising, considering the album is arguably a greatest hits compilation in and of itself.
Decades after its release, the album remains a favorite among many fans. And, of course, no Def Leppard tour would be complete without a healthy dose of Hysteria representation — fans demand it, the band knows it and happily obliges.
Hysteria helped define music in the late '80s; it was practically impossible to get through your day without hearing a song off the album on the radio or see one of its music videos on MTV.
It's an album ingrained in the youth of countless fans and part of so many of their cherished memories, making repeated listens all the more joyful and satisfying. From opening track "Women" to closer "Love and Affection," an adventurous, unforgettable 62+ minute journey always awaits them.
By the summer of 1988, Def Leppard had become one of the biggest bands in the world, all the result of what they accomplished with Hysteria. It's no coincidence the album's massive world tour lasted years.
But let's delve deeper into Hysteria to truly appreciate the classic album it ended up becoming…
Animal Instinct…When You're Near?
For some Def Leppard fans, simply saying "Hysteria" immediately brings to mind a certain feeling, mood, or fond memory — that's how powerful its impact was for many which still resonates to this day.
Hysteria was also such a fitting title for the album, not only for the reasoning behind its meaning but simply because it was yet another one-word effectual title ending in "ia", serendipitously linking the release to band's previous one-word titled album, Pyromania, also ending in "ia".
It's hard to imagine referring to the Hysteria album by its original title, Animal Instinct. It just doesn't have the same feel nor seem to instantly garner a similar impassioned response (though David Fricke's excellent late-80s Def Leppard book did retain the Animal Instinct title).
Def Leppard Hysteria: The Singles
Numerous singles helped make the Hysteria album so memorable, including one that was a complete misfire, yet still ended up paying off in the long run.
The album's first U.S. single was "Women," not the track the band wanted to have launch the album (they preferred "Animal," but their management disagreed), but they went along with the decision nevertheless.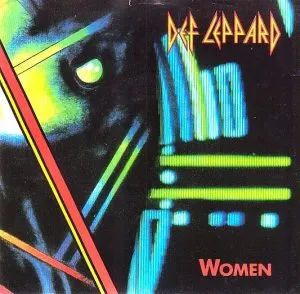 It tanked badly.
"Women" barely made it onto Billboard's Top 100 Singles chart, peaking at #80. (It fared better on Billboard's less popular Mainstream Rock Chart.)
From an industry perspective, though, its huge under-performance as the first single slowed Hysteria's sales right out of the gate.
And yet, regardless of chart performance, "Women" — and its fist-pumping chorus chant of "Women! Women!" — remains a concert favorite whenever it's performed on tour.
It wasn't until "Animal" was released as Hysteria's second single that some album sales momentum returned. And even though "Animal" wasn't a bonafide chart-topping hit single — it narrowly cracked Billboard's Top 20 — it remains one of the best songs Def Leppard has ever recorded.

It also led the way to Hysteria's third single and first bonafide hit, the title track "Hysteria."

It's repeatedly been said that Def Leppard's Hysteria had "7 hit singles," which isn't technically true. While "hit" is a subjective term, the album did have seven singles released — actually, almost eight with "Excitable" having a stint on select radio stations for a short time — but, ultimately, Hysteria had 5 "hit" singles, three of which made it into the Top 3. Still an amazing feat!
(If you would like to read a more in-depth rank and review of all of Hysteria's individual tracks, check out the Def Leppard Report Song Ranking section.)
The song "Hysteria" was the album's first single to reach the Top 10 on Billboard's Hot 100 Singles chart. And to this day it remains one of, if not, the standout track in Hysteria's crowded field of classic songs. It continues to effortlessly mesmerize, living up to its "magical mysteria" lyrics.
But let's pause for a moment and revisit the album that did NOT end up becoming Def Leppard's fourth studio album…
Def Leppard's Hysteria Alternative
As difficult as it is to envision, Def Leppard's fourth album being looked back on might not have sounded anything like Hysteria.
Instead, it could have been an album along the lines of Retro Active.

Why?
Well, quite a few songs that ended up on Def Leppard's Retro Active release were actually songs recorded for the band's fourth album.
If things had worked out differently, we'd be discussing songs like "I Wanna Be Your Hero" and "Ring of Fire," as well as tracks that were left unfinished (after the Hysteria album completely changed creative direction) like "Desert Song" and "Fractured Love."
These were the songs that were going to be the foundation of Pyromania's follow-up.
Since Mutt Lange wasn't going to return to produce Def Leppard's fourth album, the band attempted to work with Jim Steinman (of Meat Loaf and Bonnie Tyler fame) as producer, and things quickly went downhill.
Here's Joe Elliott describing Def Leppard's working relationship (or lack thereof) with Jim Steinman back in 1987:
"We were a million miles apart in our ideas about sounds, style, timing. And he couldn't adapt to the band. It was a mismatch from the start."
Joe further explained the band's disconnect with Steinman, and the epiphany they had about him to Billboard.com:
"He wrote [Meat Loaf's] 'Bat Out of Hell.' Todd Rundgren produced it, and we quickly learned there was a difference."
The band returned to the drawing board and tried again, this time producing the album themselves with the help of Mutt Lange's engineer Nigel Green. But things quickly took an ominous turn when Rick Allen's car accident happened only weeks into the new collaboration.
Everything came to a grinding halt on the band's fourth album…again.
The irony about Rick's horrific accident is that it afforded Mutt Lange the time to return and produce the album.
Mutt's arrival also resulted in all the songs initially recorded for the fourth album being scrapped and put on the back-burner, some ultimately becoming b-sides for Hysteria's official singles…

The culmination of these events put Def Leppard's fourth album on the path to become what would be Hysteria and not something more in line with the songs on Retro Active.
Mutt Lange: Def Leppard's 6th Member, Again
Mutt Lange is synonymous with Def Leppard's massive, multi-layered productions. The same can be said about Mutt's indispensable involvement with the Hysteria album.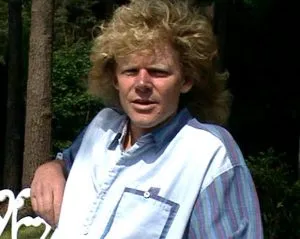 It would not be an exaggeration to say that without Mutt Lange, Pyromania and Hysteria would not have happened, or at least become the classic albums they turned out to be.
It was only after Mutt Lange agreed to join the project that Hysteria slowly began to take shape.
How immense were his contributions?
First and foremost, he co-wrote every single song.
The album's exceptionally polished production — even recording one note at a time in parts to capture the perfect sound — was all driven by the genius of Mutt Lange.
"Love Bites," which ended up being the first and only #1 single in Def Leppard's career was a Mutt Lange creation. And the song's backing vocals? Once again, Mutt.
Here's guitarist Phil Collen describing how "Love Bites" came about in an interview with SongFacts.com:
"[Love Bites] was really a Mutt Lange song – he brought it to us and he played it on an acoustic guitar to me and Steve. It sounded more like the Eagles. He sounds like Don Henley. Mutt's got an amazing voice and most of the backing vocals on that song are actually Mutt singing. We are on there but you can't really hear us – that's all Mutt's vocals."
Phil also went on to explain the origins of the song "Hysteria," a track which he and bassist Rick Savage initially thought had a chorus until Mutt Lange intervened:
"It started off, we were in Dublin and Rick Savage started playing this tune, so I immediately started singing, 'Out of touch, out of reach.' That was literally the first thing that came out of my mouth. He said that was cool and he goes, [singing] 'I got to know tonight,' this whole other section. We glued it together and we got very excited… We sat down and were playing acoustic guitar, singing over the demo, and we thought that was going to be the chorus. And Mutt Lange said, 'Okay, that's a great verse, a great bridge. Now we need the chorus.' Uh, okay. [Laughs]"
Revisit the track "Hysteria" and its infectious "Oh can you feel it, do you believe it?" chorus: those harmonies have Mutt Lange's trademark backing vocals all over them, something also heard throughout the album.
In recent years, Phil has spoken much more about Mutt's contributions to Hysteria and overall influence on the band:
"That whole album, [Mutt] really taught us how to sing and play. I think we'd been an okay band, we'd been a good band, but he made it something great. He deserves all the credit." 
Rick Allen's tragic accident wasn't only devastating, it could easily have also been career-ending, not to mention life-threatening. But it was Mutt Lange who helped motivate and inspire Rick to conceive of a completely new approach to drumming via an electronic drum kit, one which incorporated the use of his left leg to compensate for the loss of his left arm.
Rick Allen discussed how the innovative idea came about in an interview with Billboard.com:
"There were times at the beginning when I really felt like I couldn't do this anymore. The thing that really helped is Mutt came to visit and he talked me into being able to do this but in a different way. I started to figure out on my own the worst thing for me to do was to compare myself to others or compare myself to how I used to play. As soon as I embraced the idea of uniqueness, then I really started to come out of my shell."
Those are just some of Mutt Lange's immeasurable contributions to Hysteria and the overall success of the band.
How about one more example?
After finally finishing up the recording of Hysteria, it was Mutt Lange who approached Joe Elliott upon hearing Joe mess around with a catchy melody on an acoustic guitar during a studio break.
Though Joe initially dismissed it, it was Mutt who insisted it be pursued further, believing a hit song resided within Joe's impromptu jam session. And thus, "Pour Some Sugar On Me" was created.
The song ended up being a game-changer for Hysteria and career-changing for the band. It would end up taking Def Leppard's popularity to extraordinary heights. (Have you ever heard the demo of "Pour Some Sugar On Me" with Mutt Lange's original vocals? Check it out here.)
Rick Allen: Tragedy & Triumph
Rick Allen's unfathomable tragedy of losing an arm not only changed his life but Def Leppard's as well.
The band's sound fundamentally (and inevitably) changed upon Rick's return, forever changing — and establishing — what is now Def Leppard's trademark sound.
Rick's triumphant return to the band not only exemplified how he coped and overcame tragedy, it also inspired so many others who themselves had lost limbs, suffered hardships, and had to overcome a disability. (Many of whom Rick would meet with personally, and privately, before shows.)

In hindsight, Rick's accident was yet another example of how the band overcame an incomprehensible challenge and consequently turned it into a positive.
On a personal level for Rick, it provided a whole new outlook on life in different ways.
Rick discussing his mindset before the accident is quite revealing:
"The irony…is that before the accident, I'd pretty much lost interest in playing drums. 'Cause I felt I didn't have anything else to prove as a musician…and boy was I wrong about that one."
He continues, discussing how his tragedy actually turned into a blessing after the accident:
"Before my accident, I was a little too…selfish and self-absorbed and for me, to [now] be at the place where I can kind of give back and inspire people. I'm blessed. I'm really blessed."
Life works in mysterious ways, and Rick's accident is a prime example. It not only ended up inevitably changing Def Leppard, it also changed Rick's view of life.
Hysteria: Bad Luck Becomes Good Timing
Let's not forget how some of Hysteria's challenges and delays ended up working in the album's favor.
Even though "Women" struck out as the album's first single, it laid the groundwork in extending Hysteria's single release strategy.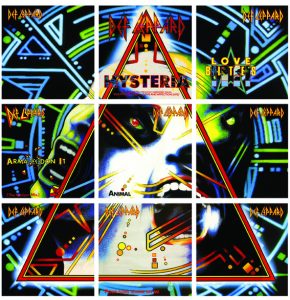 After single #3, "Hysteria," had peaked, the band's record company had to make a difficult decision about the album — cut their losses, or spend additional money to release just one more single to see if it could make a difference.
As legend has it, the option chosen was to release a fourth single: "Pour Some Sugar On Me"
The song resulted in Hysteria's album sales skyrocketing.
Timing-wise, it all worked out perfectly: "Pour Some Sugar On Me" was the song of the summer of 1988. Not only that, it breathed new life into the album and became the springboard for more singles — "Love Bites," "Armageddon It," and "Rocket," which collectively sustained the album's momentum into 1989, two and a half whopping years after Hysteria's release!
Other seemingly minor occurrences also contributed to Hysteria's uniqueness, all the result of timing which conveniently ended up working in the album's favor.
"Gods of War," as powerful as it is, was taken to a whole other sonically impressive level when snippets of speeches from Ronald Reagan and Margaret Thatcher were interspersed throughout the song's wartime sound effects.  Thanks to yet another fortunate stroke of well-timed luck, the band (and Mutt Lange) had these speeches at the ready during Hysteria's recording sessions — after all, "Gods of War" just wouldn't be as chill-inducing without its grand finale of memorable quotes like "They counted on America to be passive. They counted wrong."
There was also one other event which also had a major impact on Hysteria…
Are You Getting It…On CD, Too?
We'll never know what Def Leppard's fourth album would have ended up as if it had been released years before its eventual August 1987 date, nor do we know how it would have sold.
But one thing's for sure: the album's delays absolutely worked to its advantage with the introduction of an up-and-coming music format: the compact disc. That new product alone helped maintain and further grow Hysteria's sales momentum.
In 1985, compact disc sales were barely a blip. But by 1988, there was a whole new revolution in the industry when it came to consuming music content: CD unit sales that year were approximately 150 million and growing exponentially!
By 1989, CD sales were exceeding 200 million units, nearing 300 million by 1990.
This created a whole new sales resurgence for Hysteria.
Surely, I'm not the only one who originally purchased Hysteria on cassette, then wore it out and bought it on cassette again (also handy for playing in the car), and then bought yet another copy on compact disc.
Def Leppard's Hysteria was a must-have on CD. If there was ever an album during those early years to enjoy the wonders of the new technology, it would have to be the sonic wizardry of Hysteria.
The new CD format and the opportunity to squeeze over an hour's worth of music onto a disc did not go unnoticed either, most notably by Mutt Lange.
Phil Collen spoke to Goldmine magazine about it:
"One of the big things that a lot of people don't realize Mutt was doing with 'Hysteria' was that he was making the album for CD buyers. He knew the CD thing was going to take off…"
In the end, the new CD format allowed fans at least two (love) bites at the Hysteria apple.
Hysteria (Still) When You're Near
There are many reasons why Def Leppard's Hysteria was, is, and always will be such a special album (aside from the somber reminder that it was also Steve Clark's final album with the band).
It took almost a full year for Hysteria to reach #1 on Billboard's Top 200 Albums chart. And when all was said and done, it ruled the chart for a total of 6 weeks. Furthermore, its life on the chart lasted an astounding 136 weeks!
It's just another example of how the end justified the means.
Hysteria ended up selling 12 million copies in the U.S. alone and 25 million albums worldwide.
Quite an amazing accomplishment, especially when reminded that the band's average age at the time of its release was only about 27 years old. (Joe Elliott was 28; Steve Clark, 27; Phil Collen, 29; Rick Savage, 26; Rick Allen, 23!)
Hysteria's struggles encapsulate many of the things that still represent Def Leppard — ups and downs, overcoming tragedy, persevering, and undeniably succeeding. Decades after the album's release, the band continues pressing forward, making music and selling out venues when touring.
Ever the optimist, here's what Joe Elliott had to say in an interview with the Los Angeles Times back in 1987, soon after Hysteria's release:
"All those delays helped the new album. It would have been more in the vein of 'Pyromania,' more than we wanted it to be. With the added time, we've been able to expand our musical horizons. 'Hysteria' has more variety to it and it's more mature."
In the end, the years of struggles, delays, and hardships while making Hysteria were not roadblocks — they were merely a necessary part of what ultimately made Hysteria the album we continue to celebrate to this day.