Def Leppard's "Long Long Way To Go" single was released on April 14, 2003.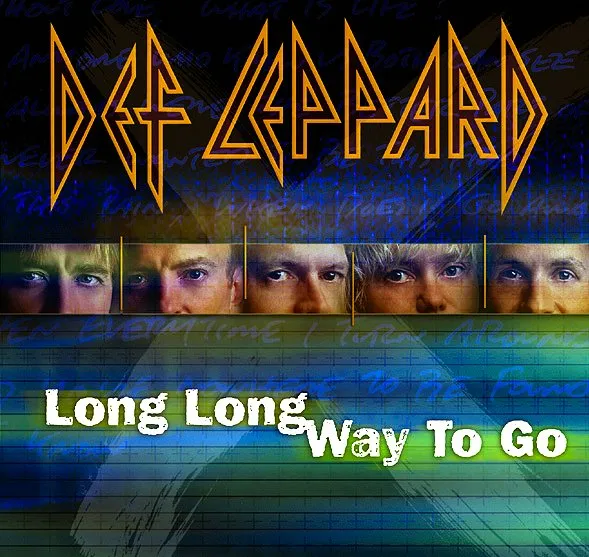 It may be surprising to some, but this track off of the X album is not included in any of Def Leppard's U.S. greatest hits releases. (It was part of the band's limited edition 2004 "Best Of" UK release, though).
"Long Long Way To Go" isn't your typical Def Leppard power ballad for various reasons, so let's take a more in-depth look back!
Def Leppard: Long, Long Way To…Chart Success
If you're a frequent reader of the Def Leppard Report, you've likely become accustomed to at least some chart performance dissection and analysis — well, this is NOT one of those times, because "Long Long Way To Go" failed to even chart in the U.S.! (It barely cracked the Top 40 charts in the UK, peaking at #40.)
This shouldn't be surprising, as Def Leppard's single chart performance mostly lost its meaning after the band's Adrenalize release.
But that's not to say the "Long Long Way To Go" single release strategy can't be revisited!
The decision was made to release "Now" — a solid track, but arguably more of an album cut in the scheme of things — as the X album's all-important lead-off single. To be clear, this is not to say "Long Long Way To Go" should have been the lead-off single either, but there were definitely stronger options.
This all goes back to the unfortunate approach taken to market and promote the X album. (This has already been covered in a previous Def Leppard Report article which you can read here.)
Case in point, the X album was released in July 2002; "Long Long Way To Go" was released as a single in April 2003 — EIGHT MONTHS after the album's release! By then, the X album's awareness and sales momentum were long, long gone.
So not having "Long Long Way To Go" even make it onto Billboard's Hot 100 U.S. Singles chart is not shocking.
A Different Kind Of Def Leppard Ballad
There are different camps when it comes to "Long Long Way To Go" (and the overall X album, for that matter).
On one end, "Long Long Way To Go" can be considered one of Def Leppard's quintessential ballads, heartfelt and emotional. On the other end of the spectrum, some may feel the song is so poppy it verges into "boy band" territory.
Regardless of your stance, both opinions can simultaneously apply!
How so?
"Long Long Way To Go" is one of those rare instances where Def Leppard had no involvement in writing the song, not even in a co-writing capacity.
It was written by Wayne Hector and Steve Robson, songwriters who enjoyed enormous songwriting success with numerous multi-platinum acts, including One Direction, Christina Aguilera, Pink, among others.
But just because Def Leppard didn't write "Long Long Way To Go" doesn't mean it isn't a solid ballad, regardless of which era of the band you prefer. It strikes a chord (no pun intended!) with many fans, and its emotional themes of loss and coping are effective. So much so, opinions can vary broadly as to what the song's lyrics are really all about — the break-up of a relationship? the loss of a loved one? subtle references throughout pertaining to the loss of Steve Clark?
Open interpretations allow for fans to personally connect with song any way they please…just the way it should be.
An Even Longer Way To Go
"Long Long Way To Go" never truly received the recognition it deserved.
As mentioned, the X album's promotional strategy was nowhere near as effective as it could have been, but, in all honesty, the latter part of the '90s and early 2000's weren't very kind to the band or their popularity, thanks in part to the grunge era.
"Long Long Way To Go" isn't necessarily the "go-to ballad" on the X album either. It resides among other adult contemporary-like tracks that could also fit the bill.
For example, High 'n' Dry had "Bringin' On The Heartbreak," Hysteria had "Love Bites," Adrenalize had "Have You Ever Needed Someone So Bad," and so on.
The X album had "Long Long Way To Go," "Let Me Be The One," and the underrated "Unbelievable" (which, ironically, also wasn't written by any member of the band), so it was just one of a handful of ballad offerings.
Would a song like "Long Long Way To Go" have had more success and notoriety if it had been included on Hysteria or Adrenalize? Sure. Would other tracks like "Torn To Shreds," "Everyday," or "Unbelievable" have been good single options for the X album, in addition to "Long Long Way To Go"? Likely. In hindsight, would it have made a huge difference? Maybe, maybe not.
In the end, "Long Long Way To Go" was one of the very few singles chosen to represent and (belatedly) promote the X album, and the song didn't catch on.
It did grab the attention of Lionel Richie, though, who ended up recording his own respectable version of the song in 2004, so there's that.
Long Long Way To Go: The Music Video
The "Long Long Way To Go" music video served its purpose well.

Subtle mood lighting, candle-filled sets, and saturated colors matched up well with the song's somber themes and the band's toned down performance.

The music video would have worked just as well without its obscure storyline periodically wedged in throughout the band's footage, and that includes its unnecessary shots focusing on a mouse scurrying around.

Most unfortunate, though, was no longer having the MTV network of yesteryear to air and promote "Long Long Way To Go." As a result, many fans missed out on discovering the video, song…and, ultimately, the X album.



You can view Def Leppard's "Long Long Way To Go" music video here (along with every other official music video from the band).
Final Thoughts
Similar to "Tonight," "Long Long Way To Go" had its moment in time, albeit a small one.
Def Leppard performed "Long Long Way To Go" during their X tour, in the same way "Tonight" was part of the Adrenalize tour: once their respective album's tour wrapped up, so did their playlist rotation.
"Long Long Way To Go" wasn't even part of the band's well-received live "acoustic medley" (also officially released digitally in 2012), even though it would have fit right in. Ironically, X track "Now" did make it into the medley.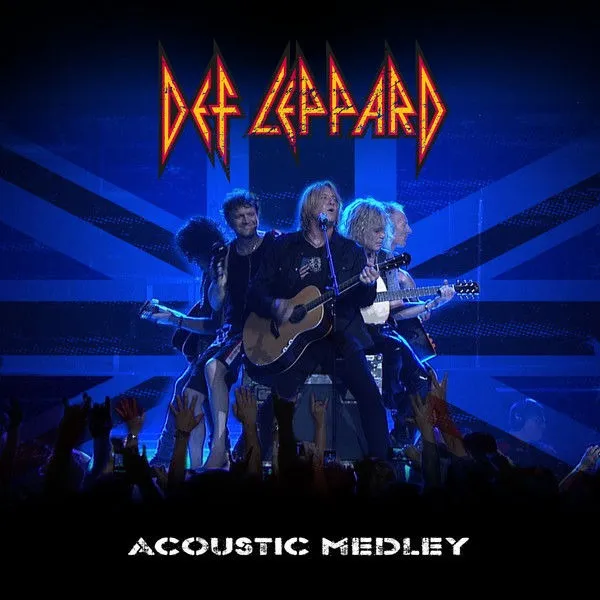 Def Leppard Report ranks "Long Long Way To Go" the #6 track off the X album — it might not reside near the top of some fans' lists of favorite Def Leppard power ballads, but its solid arrangement, heartfelt lyrics, rich vocals courtesy of Joe Elliott, and infectious melodies are definitely worth revisiting again and again…even decades after its release.