There were several notable happenings in the world of Def Leppard this past week…
Def Leppard News Highlights:
Week of 4/22
Steve Clark's birthday — Steve would have turned 59 years old on 4/23/19.
Read Def Leppard Report's special tribute to Steve Clark and the legacy he left behind here.
It was the 11th anniversary of Def Leppard's single "Nine Lives" (featuring a duet with Tim McGraw).
Read Def Leppard Report's in-depth look at "Nine Lives" here.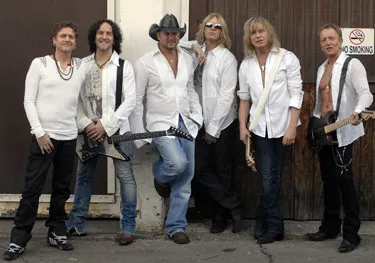 Here's a recap of the video from Rolling Stone:
"In the video, Elliott also remembers miming Elvis Presley's "Wonder of You" in a school play, the origins of "Pour Some Sugar On Me" and how Mariah Carey came to cover "Bringin' On the Heartbreak." He also recalls jumping on stage to urge John Peel to play a song off Def Leppard's debut EP while the legendary BBC host was in the middle of a live DJ session. Peel demurred at the time because he hadn't actually heard the record, but a few days later Elliott got a call from Peel who said he was going to give "Ride Into the Sun" its radio debut."
Def Leppard announced their Volume 2 Limited Edition Box Set. (It's now available.)
The set spotlights (re-mastered) albums Adrenalize, Retro Active, Euphoria, and Slang, along with a variety of "rarities" (previous demos and b-sides, live performances), a 40-page booklet with photos, and new sleeve notes.
This is the second in a series of four box sets.
You can purchase your copy from Amazon here: 7-CD Box Set | Vinyl Box Set (and in the Def Leppard Report Merchandise section).
Def Leppard will be part of the Exit 111 Festival which takes place on October 11-13 in Manchester, Tennessee. (Def Leppard's performance will be on Saturday, 10/12).
Other acts in the festival's line-up include Guns N' Roses, Lynyrd Skynyrd, Slayer, Megadeth, ZZ Top, Cheap Trick, and many more!
You can purchase tickets to the show (and other Def Leppard dates and more) in the Def Leppard Report Tour Dates/Tickets section.
The Rock and Roll Hall of Fame Ceremony premiered on HBO.
Unfortunately, the Def Leppard segment was edited down for time, cutting out some great, memorable moments (portions from Joe Elliott's acceptance speech, as well as the band performing "Hysteria") which fans would have enjoyed.
You can watch video footage that wasn't included in HBO's broadcast here.
Have a great week!