Welcome to another edition of Def Leppard News Bites!
Here's a recap of some of the most recent happenings in the world of Def Leppard…
Def Leppard News Highlights & More:
Week of July 29th
Here's the video:
Def Leppard's X album celebrated its 17th anniversary.
Take a much deeper, in-depth look back at the album and its single release strategy…or lack thereof. (Click here for article)
Take a trip down memory lane and commemorate the landmark album for what it is…and for what it isn't. (Click here for article)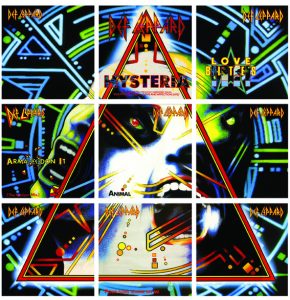 In case you missed it… A deep dive was also done recently for the anniversary of Def Leppard's High n' Dry album… Read it here!
'
Vivian Campbell was interviewed recently on "Rock Talk with Mitch Lafon" and mentioned his doubts about Def Leppard recording a full-length album next year.
Here's a snippet:
"There's always songs on the go. Everyone in the band is a songwriter. We all have these little ideas in our back pocket. It's all a question of making the collective effort and actually start recording something. There's been rumors of maybe addressing that sometime in 2020. I don't know if it will be an album; I doubt it. I think what will probably happen is we'll go into the studio and just try and focus on two or three or four ideas and see what comes out of it."
Vivian discussed other topics, among them the band's upcoming Las Vegas Planet Hollywood residency.
You can listen to the entire interview here:
Merchandise Section Updates
Planet Hollywood Las Vegas Residency
Def Leppard Report: On Social Media
Have a great week!