There were several notable happenings in the world of Def Leppard this past week…
Def Leppard News Highlights:
Week of May 13th
Def Leppard's album Slang celebrated its 23rd anniversary.
Take an in-depth look back at Def Leppard's underrated Slang album right here.
Def Leppard appeared on "The Tonight Show" (for the very first time!) 23 years ago this week and performed "Work It Out."
You can also view the "Work It Out" music video (and every other official Def Leppard music video) right here.
Take an in-depth look back at the band's unique Songs from the Sparkle Lounge album right here.
Vivian Campbell was interviewed on the "Rock Hard with Jay Conroy" show and discussed a variety of topics, including how his side band Last In Line came together, how he manages his very busy schedule, and how his work has helped him cope with cancer.
Here's a snippet from the interview:
"At first, [the guys in DEF LEPPARD] wanted me to stay home and convalesce, which is a natural reaction, and you would think that most people probably would wanna do that. But for me, I always knew — I was determined to continue working, and I'm convinced that that was part of my being able to deal with it so well. But different strokes for different folks, as they say. My work keeps me alive."
Here is the entire interview:
Pyromania peaked at #2 on the Billboard Top 200 Albums Chart 36 years ago this week.
Read a complete breakdown and ranking for all of Pyromania's songs right here.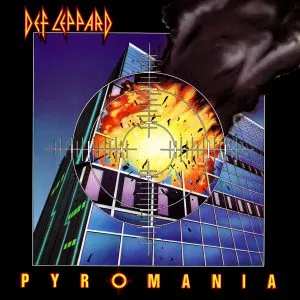 Read about all the differences between Def Leppard's greatest hits releases — Vault, Rock of Ages: The Definitive Collection, and The Story So Far — right here.
Def Leppard Reminders
Def Leppard's Volume 2 Limited Edition Box Set is now available (released June 21, 2019).
The set spotlights (re-mastered) albums Adrenalize, Retro Active, Euphoria, and Slang, along with a variety of "rarities" (previous demos and b-sides, live performances), a 40-page booklet with photos, and new sleeve notes.
This is the second in a series of four box sets.
You can purchase your copy from Amazon here: 7-CD Box Set | Vinyl Box Set
Links to purchase the box set are also in the Def Leppard Report Merchandise section, where you'll also find A LOT of great Def Leppard products — including baby clothes, t-shirts, blankets, wall decor, cellphone accessories and much more!).
Def Leppard Tour Countdowns
You can view Def Leppard's tour schedule and purchase tickets (for Def Leppard and many other acts/shows you might be interested in) in the Tour Dates/Tickets section.
Def Leppard Report (Follow Options)
Have a great week everyone!