Def Leppard's "Nine Lives" single was released on April 27, 2008.
The song featured a collaboration with country superstar Tim McGraw and was chosen as the lead single from Def Leppard's Songs from the Sparkle Lounge album. (The track is also included on the band's The Story So Far… greatest hits album.)

"Nine Lives" is an unconventional Def Leppard song and isn't among one of the band's chart-toppers — actually, it didn't even make it onto Billboard's Top 100 Singles chart.
But "Nine Lives" achieved one very important goal as only it could: garnering plenty of publicity (courtesy of its unique rock/country superstar collaboration) to hype the release of the Songs from the Sparkle Lounge release.
Took A Chance On A Chance…And A Song Was Born
Tim McGraw co-wrote "Nine Lives" with Def Leppard (specifically Phil Collen, Joe Elliott, and Rick Savage).
Tim described the experience of working with the band to CMT.com:
"Each of us brought something different to the table, and we drew on each other's influence to finish it out. They are simply one of the best rock bands ever, and it was a great time working together."
How did the collaboration even come to be?
Well, Tim McGraw's tour manager was none other than Robert Allen (Rick Allen's brother), and with Tim being such a big fan of Def Leppard's music, the rest is history.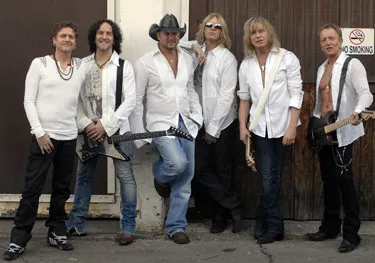 Joe Elliott elaborated on the joint effort to Billboard.com in 2008:
"We've kind of known Tim and [his wife] Faith Hill are huge Leppard fans and have been for many years. When we played the Hollywood Bowl in 2006, Tim happened to be in L.A., so we invited him down; it was one of those, "Hey, man, you want to get up and do something?" So we did "Pour Some Sugar on Me," which went down really well.

"We had a good laugh that night and lo and behold, when we came through Nashville just a short while later, he came down to soundcheck and we ended up in the Sparkle Lounge, and that's where the song was conceived."
The final result is a tune that does a fine job showcasing a main course of Def Leppard's rock roots with a side of Tim McGraw's country music flavor sprinkled in throughout.
Joe Elliott also shared his thoughts on the rock vs. country aspect of the song (from the same Billboard.com interview):
"People have been bringing that question up: 'You guys have gone country?' 'No! Tim went rock!' And truth be known, that's really what he did. If you listen to the record, he goes off on his own kind of twangy tangent for the beginning part, but after that, even me and him could barely distinguish one from another… So he really stepped up to the plate in the rock sense."



Welcome To Def Leppard Country
Def Leppard made a considerable push into the world of country music in 2008.
And why not?
The band's music had already crossed over into other areas beyond rock, and their influence on other artists confirmed how far-reaching their appeal was across genres — just ask Def Leppard fans Lady Gaga, Pink, Maroon 5, Mariah Carey, Jewel, Allison Krauss, John Mayer, and so on.
And, of course, there's also country superstar Taylor Swift…
Def Leppard and Taylor Swift's "CMT Crossroads" performance was also released in 2008 (i.e. the same year as "Nine Lives").
To connect some dots for your amusement:
Taylor Swift's first-ever published song was titled "Tim McGraw"…
Def Leppard and Taylor Swift performed together on "CMT Crossroads"…
Def Leppard recorded "Nine Lives" with Tim McGraw…
When Rick Savage introduced his daughter's singing debut to a live audience, the two of them performed the song "Tim McGraw" by Taylor Swift!
Funny how things work out sometimes!
Def Leppard "Nine Lives" Music Video
Directed by the late Sherman Halsey, the "Nine Lives" music video interspersed black & white footage…

…and grainy, washed-out performance footage…

…with vibrant, over-saturated color footage:

Even though the quick-cut editing and interwoven black & white vs. color footage is a bit overdone and distracting, the video ultimately captured the spirit of the project: everyone having a really good time…

You can view Def Leppard's "Nine Lives" music video here (along with every other official music video from the band).
Def Leppard "Nine Lives": Final Thoughts
DefLeppardReport.com ranks "Nine Lives" the #7 track off the Songs from the Sparkle Lounge album.
The track is a bit rough around the edges (mostly intentional) in order to achieve a more raw outcome than your typical Def Leppard song. But, to be fair, that only takes it so far as its shouted "Nine Lives! Nine Times To Die!" chorus doesn't quite flow off the tongue so easily or reach the satiating levels of melody many fans expect from the band.
Arguably, there were stronger song offerings to launch Songs from the Sparkle Lounge, such as "C'mon C'mon" (as the first single), or "Go" or "Tomorrow" (for album-oriented rock stations), but "Nine Lives" served its purpose and helped attract attention to the album for the band to capitalize on, at least for a little while.
Similar to other Def Leppard singles — "Tonight" and "Long Long Way To Go" are two examples — "Nine Lives" received concert setlist inclusion for a short period of time, but mostly with the intent of promoting the band's Songs from the Sparkle Lounge album on tour.

It's a pretty safe bet that "Nine Lives" won't have a regular slot in a Def Leppard tour setlist again, which is more a testament to the depth of the band's catalog rather than how well the track has aged over the years.
Plain and simple, "Nine Lives" is a solid, flat-out rocker. Moreover, it's also a fitting title for a band like Def Leppard and the insurmountable odds they've overcome throughout their career.