Def Leppard's "Nine Lives" single was officially released 11 years ago today.

Original release date: April 27, 2008.
The song featured a duet with country superstar Tim McGraw and was the first single off of the band's Songs from the Sparkle Lounge album.

"Nine Lives" is also included on the band's The Story So Far: The Best of greatest hits album.
The song is not one of Def Leppard's chart-toppers — actually, it didn't even make it onto the Billboard Top 100 Singles chart — but it succeeded in accomplishing an important goal: garnering attention (a unique collaboration helps too) and hyping the upcoming release of the band's Songs from the Sparkle Lounge album.
Def Leppard "Nine Lives" Music Video
Directed by the late Sherman Halsey, the "Nine Lives" video featured black & white grainy footage…

…interspersed with vibrant, over-saturated color footage…

The music video successfully captures the spirit of the song — everyone simply having a good time belting out a fun, sing-along tune.

You can view Def Leppard's "Nine Lives" music video here (along with every other official music video from the band).
Took A Chance On A Chance…
Tim McGraw co-wrote "Nine Lives" with Def Leppard (specifically Phil Collen, Joe Elliott, and Rick Savage).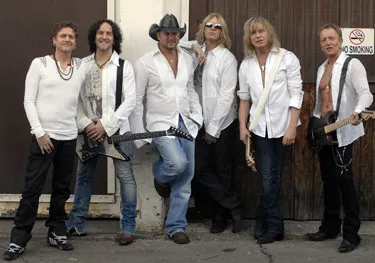 Here's how Tim described the collaboration to CMT.com:
"Each of us brought something different to the table, and we drew on each others influence to finish it out. They are simply one of the best rock bands ever, and it was a great time working together."
How did the collaboration even come to be?
Well, Tim McGraw's tour manager was none other than Robert Allen (Rick's brother), and with Tim being such a big fan of Def Leppard's music, the rest is history.
Here's how Joe Elliott explained it to Billboard.com in 2008:
"We've kind of known Tim and [his wife] Faith Hill are huge Leppard fans and have been for many years. When we played the Hollywood Bowl in 2006, Tim happened to be in L.A., so we invited him down; it was one of those, "Hey, man, you want to get up and do something?" So we did "Pour Some Sugar on Me," which went down really well."

"We had a good laugh that night and lo and behold, when we came through Nashville just a short while later, he came down to soundcheck and we ended up in the Sparkle Lounge, and that's where the song was conceived."
The final result is a rockin' tune that does a fine job showcasing Def Leppard's rock roots with Tim McGraw's country music flavor incorporated throughout.
Joe Elliott's thoughts on the rock vs. country aspect of the song (also from the Billboard.com interview):
"People have been bringing that question up: 'You guys have gone country?' "No! Tim went rock!" And truth be known, that's really what he did. If you listen to the record, he goes off on his own kind of twangy tangent for the beginning part, but after that, even me and him could barely distinguish one from another… So he really stepped up to the plate in the rock sense."
Def Leppard Country
Def Leppard made a considerable push into the world of country music in 2008.
And why not?
The band's music already crossed over beyond rock, and their influence on other rock and non-rock artists showed how wide their appeal was across music genres — just ask Def Leppard fans Lady Gaga, Pink, Maroon 5, Jewel, Allison Krauss, John Mayer, and so on.
And, of course, there's Taylor Swift:
Def Leppard and Taylor Swift's "CMT Crossroads" performance was also released in 2008 (i.e. the same year as "Nine Lives").
To connect some dots for your amusement:
Taylor Swift's first-ever published song was titled "Tim McGraw"…
Def Leppard and Taylor Swift performed together on "CMT Crossroads"…
Def Leppard recorded "Nine Lives" with Tim McGraw…
AND… (4.) When Rick Savage introduced his daughter's singing debut to a live audience, the two of them performed a song together: "Tim McGraw" by Taylor Swift!
Round and round we go!
Enjoy:
Def Leppard Nine Lives: Song Ranking
DefLeppardReport.com ranks "Nine Lives" the #7 track off the Songs from the Sparkle Lounge album.
You can read more about "Nine Lives" and a complete song ranking and review of all 115 songs from Def Leppard's original studio albums here.
Not only is "Nine Lives" a flat-out rocker, it's also a fitting title for a band like Def Leppard and all the insurmountable odds they've overcome throughout their career.