Def Leppard's iconic Pyromania album was released on January 20, 1983.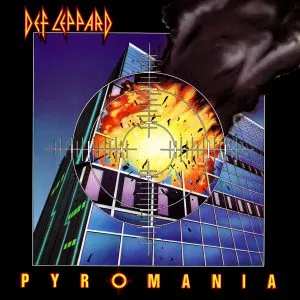 Def Leppard: Pyromania
On Through the Night and High 'n' Dry could be considered the appetizers to Def Leppard's Pyromania — a main course of finely crafted, infectious songs to satisfy listeners, in addition to achieving the band's quest for radio dominance and massive album sales. (It wouldn't be until 4 years later when a heaping second course — Hysteria — would take them to even greater heights.)
There's little doubt Def Leppard fans are passionate about which era or album best represents the band, but, regardless of choice, it's undeniable that Pyromania is a groundbreaking classic.
So rise up, gather round (better yet, sit back and get comfortable), and let's rock this anniversary to the ground…by taking a fond look back at Def Leppard's iconic Pyromania.
Pete Willis: F-F-F-Fired
It may sound cliche in the Def Leppard lexicon, but the Pyromania period was a time of transition for the band. (In the '80s and '90s, this seemed more the norm rather than the exception for Def Leppard.)
Founding member Pete Willis was fired during the recording of the album. And while his rhythm guitar work remained on the record, Pyromania ended up being the first Def Leppard album to feature replacement Phil Collen.
Pete Willis was an integral part in co-writing numerous songs during the band's early era, and that includes the Pyromania album: "Photograph," "Too Late For Love," "Comin' Under Fire," and "Billy's Got A Gun" were all co-written by Willis.
It's important to note that Steve Clark's songwriting contributions are all over the album too — aside from "Stagefright," Steve co-wrote every song on Pyromania. (Phil Collen joined the band near the end of the album's recording; he was not involved in co-writing any of the tracks.)
Steve Clark and Pete Willis played a crucial part in making the band's first three studio albums, well, what they were, and Pyromania marked the end of that creative duo. (Read more about Steve and Pete's immeasurable contributions to the High 'n' Dry album here).
Teaming up Steve Clark and Phil Collen — aka "The Terror Twins" — introduced a new dynamic all its own. And even though Phil did not take part in the songwriting, he delivered his own brand of unmistakable guitar solos on five of Pyromania's songs — "Photograph's" classic solo being one of them — while Steve handled guitar solos on the album's other five tracks.
Mutt Lange's Return & Influence
Producer Robert John "Mutt" Lange took on a much greater role in crafting Pyromania, and, ultimately, the type of band Def Leppard would become.
Mutt's involvement in every aspect of the album went far beyond producer duties; aside from Joe Elliott, Lange is the only other person to have a songwriting credit on every Pyromania track.
It was during this time Def Leppard's rough-around-the-edges, hard rock sound began to transform. As a result of Mutt's influential direction, the "Def Leppard" of On Through the Night and High 'n' Dry was evolving into a more polished, arena-rocking, radio-friendly, pop-metal supergroup.
In hindsight, Pyromania bridged the gap between the band's first two "rawer" studio albums and the subsequent monstrous, multi-layered productions of Hysteria, Adrenalize, and beyond (such as Euphoria).
And while some fans may have been disappointed by Def Leppard's more refined "commercial" sound during the Pyromania (and Hysteria) era, it's ultimately what would become their trademark and an essential ingredient in the band's success and everlasting popularity.



No Serenade, No Fire Brigade: Just Pyromania
Pyromania packed a wallop, from the immediate opening sonics of "Rock! Rock! (Till You Drop)" to the seemingly endless drum loops of last track "Billy's Got A Gun."
The album ventures into different directions — many tracks even feature effects-laden introductions that identify the song before a chord is even played — which all contribute to the unique journey of Pyromania's listening experience.
When a young, talented band works with a mastermind producer, magical results are sure to ensue, and the differences on Pyromania are stark when compared to previous Def Leppard albums: Joe Elliott's vocals are thicker and much more powerful; Steve Clark and Phil Collen's (and Pete Willis') guitars are crisp and impactful, almost having a voice all their own; Rick Savage's bass guitar prominent and ever-present, leading the way; thunderous, layered backing vocals (which also include Mutt Lange's voice), and so on.
And then there were the drums, an essential component in what made Pyromania's songs — and overall almighty sound — so distinct.
What may be surprising to some is that the majority of the drums heard on Pyromania (aside from only the cymbals) were reportedly created by drum machines — a trade-off, in order to accomplish the sound Mutt Lange envisioned for the album, and the result of his recording approach (adding drum tracks last for more flexibility when arranging — and rearranging — songs).
Mutt Lange's right-hand man and engineer-extraordinaire, the late Mike Shipley confirmed this recording process in interviews:
"Take 'Photograph,' for example. Like all the other songs on the record, the song's drums were all samples from the Fairlight [CMI (computer musical instrument) sampler]. There are no real drums. The cymbals are played, but the bass drum, snare, and toms are all machine. We had all kinds of drums in there, and I sampled them into the Fairlight and detuned them. We'd sample them in at half-speed, thinking that we'd get a better sound, because that's when Fairlight was at 8 bits – you had to get around that part of it. We sampled [Ludwig] Black Beauty snares, other snares, and all kinds of bass drums."
Ironically, this all occurred before Rick Allen's tragic car accident, which resulted in him completely changing his approach to drumming, and which consequently further transformed Def Leppard's sound.
As for Pyromania, it was Mutt Lange's overall approach and attention to detail — no matter how small — that ended up creating such a tremendous sounding end result.
You may have read a previous article on this site spotlighting "Photograph" and featuring Joe Elliott's vocal track.  Well, let's take things a step further, shall we?
For your amusement, here's an excellent video that will give you an idea of Pyromania's multi-layer recording process, showcasing its multitude of tracks and the technical wizardry behind the scenes that crafted "Photograph's" arrangement.
It's literally a view from behind a studio console that showcases everything that's occurring simultaneously during the song. (Watching the first 2-3 minutes will give you a good idea of the endeavor, but if you have the time, make sure to reach the 4:48 mark where it really kicks into gear, after ongoing, continuous tweaks to the mix have been made. It'll practically give you goosebumps — turn it up!)
As you can see and hear, all the audio subtleties — including those things you may not have even noticed before — come together to form one incredible song result. (And this is based on only utilizing finished layered tracks!)
The video does a wonderful job encapsulating the grand scale of Pyromania and the production quality behind it.
Pyromania: The Singles and Beyond
Pyromania's official singles certainly lit up (pun intended) the charts, yet none of them came close to topping Billboard's Hot 100 Singles chart; surprisingly, they didn't even reach the Top 10! That's not to say they didn't make an impact; they certainly did, leaving a lasting impression that remains to this day.
"Photograph," which many consider the album's best track (read the Def Leppard Report Pyromania song ranking here) was the first official single. It was released in February 1983 — after the album's release.

Talk about an excellent way to introduce Pyromania to a radio audience! The song ultimately peaked at #12 on Billboard's Hot 100 Singles chart (it did reach #1 on the more niche Billboard Mainstream Rock chart.) Surprisingly, and indicative of Def Leppard's uphill climb to win over their homeland audience, "Photograph" peaked at only #66 on the UK's singles chart!
"Rock of Ages" followed it up as the album's second single in May 1983, and it nearly matched "Photograph's" chart performance: it reached #16 on the Hot 100 Singles chart (and also made it to #1 on the Mainstream Rock chart.)

"Foolin'" was released (in North America only) as single number three in November 1983, and it didn't quite keep up with its predecessors: it peaked at #28 on the Hot 100 Singles chart (and #9 on the Mainstream Rock chart).

And…that was it.
Now you may be wondering, what about "Too Late for Love"?

Well, that track was never a single in North America, but it did get a release in the UK: it only reached #86 on their charts.
The point in all this is not to provide you with a lesson in Def Leppard chart data, but to show that the album succeeded in spite of its tracks not ruling the charts.
Within the span of 7 months, Def Leppard's Pyromania single releases had come and gone — no second wave of singles, no new track timed with another leg of a tour, etc. Fini!
And that's okay.
Quite a few of Pyromania's powerhouse deep tracks still made it onto the Mainstream Rock chart to help keep the album's momentum going. In the process, these individual "non-singles" made a name for themselves too.
Overall, it was a more successful, tactical approach than, say, the ineffective single release strategies of Def Leppard's X or Adrenalize albums.
The band also made great use of the album's deep cuts on tour too, which extended far beyond the Pyromania period: "Stagefright" and "Rock! Rock! (Till You Drop)" were utilized heavily and effectively as opening numbers during the band's Hysteria tour. "Too Late For Love," "Die Hard The Hunter," and "Billy's Got A Gun" still remain concert gems and were even performed during the band's 2019 Las Vegas "Hits Vegas" residency.
It just goes to show the caliber of Pyromania's songs; to this day, any of the tracks mentioned above would still fit right into any Def Leppard setlist. (Some fans still crave even more setlist inclusion from deeper cuts like "Comin' Under Fire.")
So, even if several of Pyromania's classic tracks weren't technically singles, they were still put to great use.
Meanwhile, the official singles thrived with the support of cable network start-up MTV.
In those days, it seemed like you couldn't get through a day of watching MTV without seeing Def Leppard on-screen…
This also included MTV's heavy video rotation of "Photograph"…

…and "Rock of Ages"…

…and "Foolin'."

(You can view all of Def Leppard's official music videos here.)
The album's marketing strategy was straightforward yet significant, and also helped enhance the Def Leppard brand: by the end of the album's promotional run, audiences absolutely knew who Def Leppard was, were well aware of their sound (and image, which also repeatedly showcased visuals of the Union Jack flag), and the band was successfully positioned as a force to be reckoned with.
Pyromania provided Def Leppard with the opportunity to finally hit it big — really big! — in North America, and the band took full advantage of it and accomplished that goal. Merely two years prior to its release, Def Leppard was opening for artists such as Rainbow, Judas Priest, and Ozzy Osbourne. Pyromania's success allowed the band to headline their own tour, which they did for nearly 200 tour dates.
That wouldn't have been possible if Pyromania didn't demand such heavy tour support.
Pyromania's Sizzling Sales
Pyromania was a huge seller for Def Leppard, even though Michael Jackson's Thriller (and the Flashdance soundtrack) prevented it from reaching #1 on Billboard's Top Albums chart.
The album still achieved its goal of helping Def Leppard cross over and conquer America's mass audience. (It would still take years for the band to reconnect with UK audiences, where Pyromania didn't even reach the Top 10: it peaked at #18.)
The album ultimately reached diamond certification status (over 10 million copies sold) in the U.S. alone. Even though sales of previous albums On Through The Night and High 'n' Dry may have paled in comparison, they still serve as the foundation which paved the way for Def Leppard to reach the heights they did with Pyromania.
Since its original release, a limited-edition gold Ultradisc version of Pyromania has come out (now rare and out of print, but you can still find copies here), and the band has also put out a deluxe remastered edition, which includes a bonus disc featuring them live in concert at the L.A. Forum in 1983.
Various tracks from the album are also included on the band's greatest hit releases, though to truly experience Pyromania, it must be heard from start to finish.
Pyromania: Final Thoughts
Def Leppard's Pyromania may have only been the band's third studio album, but nearly four decades later its legacy lives on and is still considered one of their best efforts.
The album's classics are still classic and evergreen — it wouldn't be an exaggeration to say that a song like "Photograph" could still be a hit on radio today.
It all speaks to the album's unwavering quality and strength.
Pyromania set its own standard and still endures…and the exact same thing can be said about Def Leppard.
Rock on…rock on!